If you are an Android phone user, you are probably aware of the account sync feature of your phone. You can keep the contacts and calender of your phone in sync with your Google account. This is really of help if you reset your phone to factory settings or even if the phone is lost. If you are facing any issues with sync of contacts and calendar of your phone to Google account, here is the solution.
This is primarily a problem with the way the contacts are created on the phone. The contacts on any Android phone can be created in three groups –
SIM contact, Phone Contact
and
Google Account contact
. If the new contacts are created in either of Phone or SIM, that cannot be synchronized with the Google account. For the contacts to be synced with the Google account, we need to create the contacts to save to Google account associated with the phone.
If you already have created all your contacts on phone and want to sync it up on to your Google account, we can do it by
exporting and importing contacts from Android phone
/ SIM to Google Account – here are the ways to be followed.
Open
Contacts > Menu > More > Import / Export > Export to SD Card
This will backup all the contacts to your SD card. Once this is done, import the same vcf file back, but import should be done under your Google account.
Open
Contacts > Menu > More > Import / Export > Import from SD Card > Choose your Google account
(one with gmail.com)
.....
Now, this has created all the contacts in your Google account on your phone, next step is to sync the same on actual Google account online.
Make sure you are connected to internet. Goto
Settings > Accounts and Sync > Manage accounts
, click on your
Google account
(displayed with your gmail id) > Make sure Contacts is checked > Open
Menu > Sync now
.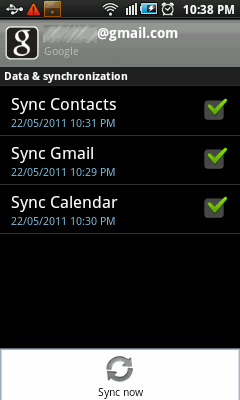 The above steps should sync your phone contacts to Google accounts.